DO what you do and burn incense, too
Handmade on The Danforth in Toronto, Ontario
our incense
All Floré Canadian Incense is direct-burning and made with natural ground bamboo, and a mix of natural and synthetic fragrance oils that are formulated to burn safely as incense. For more details please read our FAQs.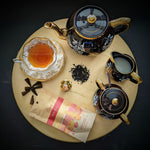 Floré Incense Cones
Each package of Floré Canadian Incense Cones contains 20, 1 inch high, ½ inch base incense cones that will burn for approximately 20 minutes. Floré Canadian Incense Cones are available in 9 different fragrances.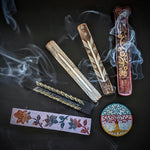 Incense Burners
Floré Canadian Incense has an array of incense burners available for purchase online. Incense burners are designed to both hold the incense while it burns and catch the incense ashes. Incense burners are also referred to as incense holders or ash catchers.
Existential Hippy Burners are one of a kind and handmade in Moose Jaw Saskatchewan. All other incense burners are imported and styles will change based on supplier inventory. 
BURNING INCENSE
Do not burn incense unattended. Make sure you use heat resistant vessels and place burning incense on heat resistant surfaces. Again, please read our FAQs, even just to humour us as we had to write them ourselves.